#InspireChange
We are passionate about leadership and business being a force for good, and recognise that for societies and the world we live in to improve, we need more 'purpose-led' leadership – an important driver that connects social impact in the communities we live in and the value that organisations deliver.
QuoLux™ is B Corp Certified and a world-leading in-person, digital learning and blended learning leadership development business, with a purpose to #InspireBelief within leaders at all levels in organisations.
This year then we became a Certified B Corporation™ (B Corp™), joining a growing, global community of businesses that are leading a movement for an inclusive, equitable and regenerative economy by pursuing purpose as well as profit.
The B Corp certification process is rigorous and means we meet high standards of social and environmental impact, and demonstrate accountability and transparency in our stakeholder governance, as well as a commitment to step into a certifiable framework for continuous improvement. It addresses the entirety of a business' operations and covers five impact areas of Governance, Workers/Colleagues, Community, Environment and Customers.  
We're proudly outperforming the B Corp benchmark for our sector across all 5 Pillars. To see our overall B Corp score and our score across the 5 Pillars, scroll down to download our Positive Impact 2023 report.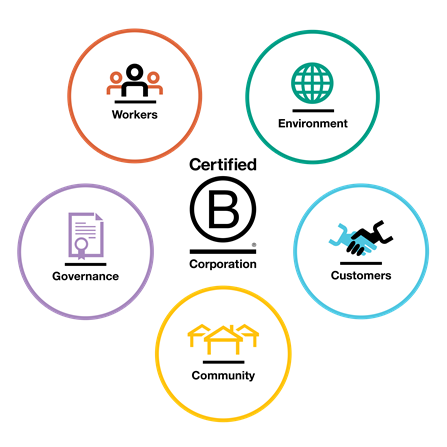 Chris Turner, Executive Director of B Lab UK, said, 
"We are delighted to welcome QuoLux™ to the B Corp community. This is a movement of companies who are committed to changing how business operates and believe business really can be a force for good. We know that QuoLux™ are going to be a fantastic addition to the community and will continue driving the conversation forward. It is an exciting moment because they have an opportunity to lead the way within the business training and education industry.
"We are pleased to have B Corps of all shapes and sizes as part of our community – from small and medium-sized businesses to multinationals and across many different industries. Business is a powerful force and B Corps demonstrate that you can do good in any sector. We and the rest of the B Corp community are really pleased to support QuoLux™ in paving the way for a new way of doing things.    
"Their commitment to doing business differently will be an inspiration to others and really help spread the idea that we can redefine success in business to be as much about people and planet as it is about profit".
Business as a Force for Good
We are now part of a community of 6,279 businesses globally who have certified as B Corps. The B Corp community in the UK, representing a broad cross section of industries and sizes, comprises over 1,300 companies and include well-known brands such as The Body Shop, Innocent Drinks and organic food pioneers Abel & Cole, as well as local companies we have worked with, including one of the founding members of the B Corp movement - award-winning organic herbal teas and supplements business Pukka Herbs, fifth generation family bakery Hobbs House Bakery, and Optimising IT.
The B Corp movement aims to change the economic system by changing the rules of the game - creating standards, policies, tools and programs that shift the behaviour, culture, and structure of capitalism so that businesses have to balance profit and purpose. It mobilises the B Corp community towards collective action to address society's most critical challenges, transforming the global economy to benefit all people, communities, and the planet, and moving towards a vision of an inclusive, equitable, and regenerative economy.
QuoLux™ CEO, Dr Stewart Barnes, shared, 
"We're delighted to have become part of a global community of businesses that are leading a movement for an inclusive, equitable and regenerative economy."  
Gary Smith, Founder and Director of Optimising IT, who have worked with QuoLux™ since 2016 and who are also B Corp Certified, commented to a group of fellow business people who were also LEAD™ graduates, 
"Being a B Corp is what QuoLux™ does: encouraging you to be good to your people, your clients, your supply chain, your community and the planet." 
Rachael Ramos, Director in QuoLux™ added, 
"To celebrate becoming B Corp Certified, we have produced our first 'Positive Impact' report in which we aim to provide stakeholders with an insight into what we did in 2022/23, as well as give them a better understanding of how we continue to advance purpose-led leadership amongst leaders of small and medium-sized businesses."   
Making a Positive Impact
In the report, we share our impact results alongside the real-life stories from our clients, colleagues and stakeholders to bring alive the work we do and shine a light on the fantastic work our clients do.
To read our Positive Impact report for 2023, please click on the image below. 
We really hope you'll enjoy reading it, and welcome all comments and feedback about it. If you'd like to get in touch, you can email us here.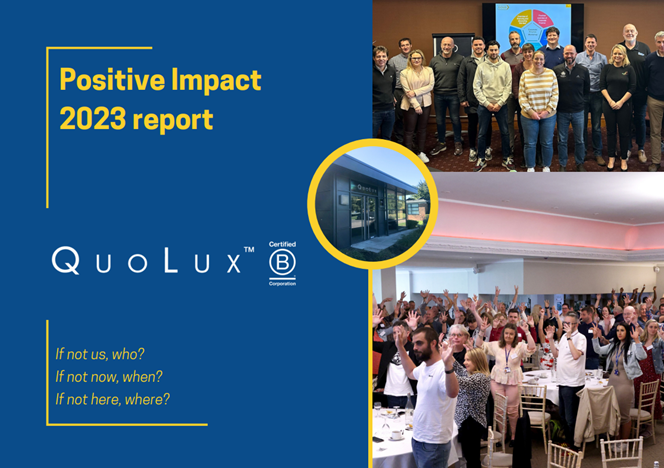 Keep up-to-date on the latest leadership and management tips by signing up to our weekly blog here