Winner of the SoGlos Family Business Award 2022
Last night the Gloucestershire business community celebrated an exceptional home-grown success story when Cotteswold Dairy was named both the Family Business of the Year and crowned overall Business of the Year in the SoGlos Gloucestershire Business Awards 2022.
As sponsor of the Family Business of the Year category I had the privilege of sitting on the judging panel alongside almost 20 other independent judges, and there is much about the third-generation family business that makes it a worthy winner of this accolade.
The business was founded over eight decades ago by Harry Workman who, having bought a 30 gallon per day milk round, a Morris 8 van, milk churns and bottles, on May 1st 1938 started his door-to-door delivery using a bucket and ladle to deliver the milk.
They are now one of the largest independent family dairies in the UK employing over 400 people and operating four different depots across the UK (Tewkesbury, Shropshire, North Wales and Hereford) which service many different types of customers including wholesale customers, semi-retail customers and independent milkmen, as well as doorstep delivery customers using traditional, electric milk floats.
Today, George Workman, Harry's grandson is the Managing Director, having taken over the reins from his father, Roger Workman in 2010. George proudly ensures that the values established by his grandfather and father remain at the heart of the business to ensure the best quality milk and cream is delivered with excellent service.
Their purpose is to be 'at the heart of a responsible and sustainable dairy community' and they are proud to work closely with their farmers, staff, customers and community, managing every step of the milk journey from collection from their local farms, to processing, distribution and delivery.
We are delighted to have worked with George and three of their senior leaders on our leadership development programs, LEAD™, GOLD™ and GAIN™ and also with a number of their managers on our LEADlight program.
Watching Roger Workman, Chairman and son of its founder, and daughter, Louise Woodward, director and granddaughter of the founder celebrating their highly deserved awards as they took to the stage, it's clear that winning together means so much to them. 
Roger said, "It feels great to win. We are a fourth generation business now and we still have the same ethos we started out with - to do the right things and do it well. This means a lot."
Louise added, "While it is recognition of us being a family business, our success and the award is about the staff. We have such a great team and it means a lot to be able to share this with them."
What an achievement, we heartily congratulate them!
If you'd like to read more about Cotteswold Dairy and how they have transformed their organisation, scroll down to download our free case study.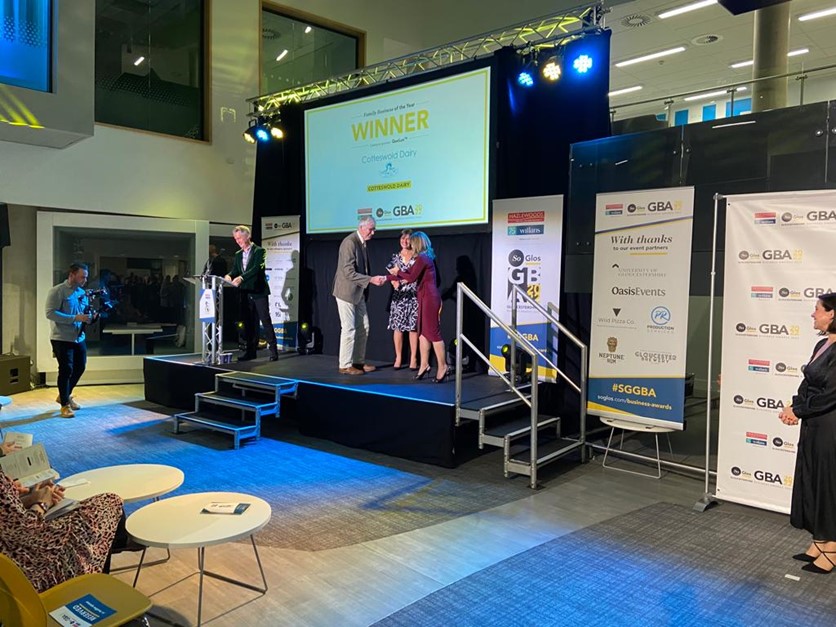 Roger Workman and Louise Woodward, collecting their award from Jo Draper, Director of QuoLux™
To read the real-world experience of Cotteswold Dairy, and how they have transformed their organisation, please click on the e-book below.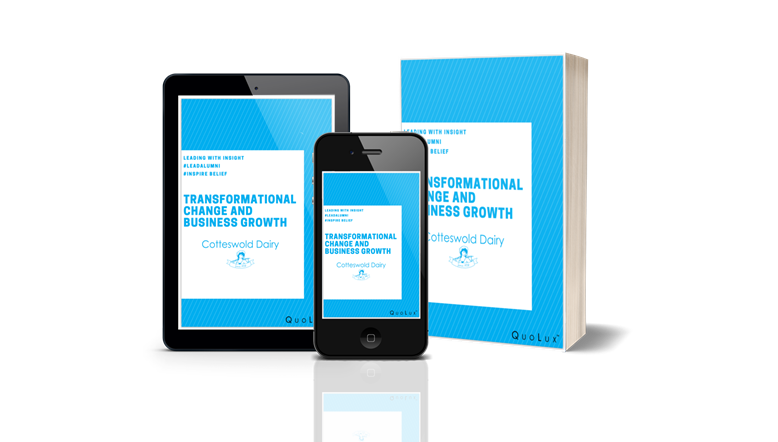 Keep up-to-date on the latest leadership and management tips by signing up to our weekly blog here