Good Dividends: Purposefully changing the world of work
A Humanifesto
Recent research confirms that over 80% of businesses state that they are facing a skills gap. This comes at a time of a global shortage of labour. Recruitment is becoming more difficult. Wages are rising. Retention of staff is a concern with too much 'churn' reported in too many companies. Almost 70% of employees are disengaged or actively disengaged. Any surprise that people enjoy 'working from home' and are reluctant to come back to the workplace? This feeds into productivity statistics that suggests a worker in Germany is 35% more productive than a person doing the same job in the UK. Imagine closing that gap? Humankind is also faced with a series of global challenges captured in part by the United Nations Sustainable Development Goals (UNSDGs) that do not fit easily into how businesses function. Something must change. 
If we say countries and companies are 'entities' then 150 of the top 200 largest entities in the world, defined by size, are companies. This suggests that businesses should be playing a huge and crucial part in managing the planet and not leaving it to the politicians. Businesses developing a purpose is of paramount importance. 
For a number of years, we have been working with Professor Steve Kempster who has pioneered a new business model, Good Dividends, that begins to address these challenges.
At the heart of Good Dividends are 5P's:  
People 

Planet and communities  

Purpose

Productivity  

Profit  
Yes, all five elements can sit together, indeed be fused together, to create a new elixir of life.
What can leaders do? The 4+1+P diet
First things first, as businesspeople we can play our part by engaging with things in our influence. Below, we lay out some suggestions – a Humanifesto – a possible approach to engaging with all, to motivate our colleagues and to develop and meet the needs of our businesses in the months and years to come. 
Think of it as a 'new diet' for business – the 4+1+P diet – where, just like a diet, behavioural change within our organisations can lead to our companies becoming genuinely 'Fit for Purpose' through an unrelenting focus on our workplace and the environment we live within. Let's look at each part of the diet in turn:
In 

Four

 Days – It is said that the productivity levels in Germany are at such a high level that a German worker can produce in four days what a Brit does in five. Let's engage with our colleagues, who know how do the job better than leaders/managers, and strip out wasteful processes so that we can do our work more productively in four days. 
The 'Plus one'– now let's use our free day – the +1 – to do two things: 

a) Spend the morning learning a new skill that addresses one or more of the 5P's that adds value in the workplace: this begins to address the 'skill gap' with businesses, and their leaders, taking responsibility for training and development 

b) Take the morning's learning into the afternoon and spend time innovating, improving and action planning: this will massively improve engagement levels with people's voices being heard, new ideas put forward and suggested changes agreed.

The 'Plus P'– identify the business' Purpose, the 'why' the business does what it does. It's the motivational element that inspires people to give of their best. Use the UNSDGs to guide your thinking.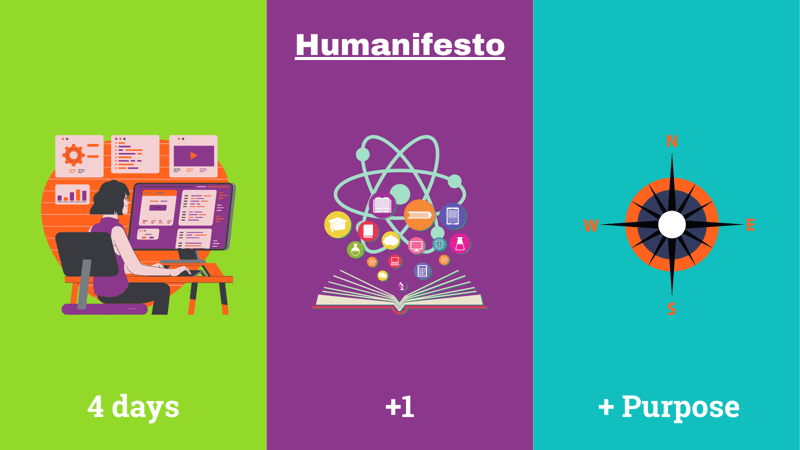 Whatever your hours of work are, we know from research on Good Dividends by Professor Steve Kempster that becoming purpose-led delivers good for the communities that we live in, improves the business' reputation/brand and, by developing people then productivity rises, engagement improves and so does the number of ideas (innovation). Together, this positively impacts the planet and profitability. A win, win for all. 
So here is our Call to Action for leaders – position your business to become a force for good; develop your skills and the skills of your people to achieve the desired change. Take the first step by reading more about purpose-led leadership and the Good Dividends in our free downloadable eBook.
Download the Purpose-led Leadership & the Good Dividends eBook
If you'd like further information on our purpose-led leadership and purpose-led business programs, please take a moment to look at the Good Dividends website here.
Keep up-to-date on the latest leadership and management tips by signing up to our weekly blog here